How To Clean Pillows – Many of us wash our sheets, linens and blankets regularly but there is another part of your bedding that is too often forgotten — pillows.
We place our heads on these fluffy, supportive cushions each night as we sleep. However, pillows also absorb sweat and dust particles that linger in our sleep zones.
The good news is washing your pillows can help alleviate any uncouth additions to your bed set. Here are a few tips to follow when it comes to cleaning your pillows properly.
Tips On How To Clean Pillows

How To Clean Pillows Step #1 – Air Out Your Pillows
When it comes to caring for pillows, make a habit of shaking them daily so that you will be able to bring back their shape as well as get rid of the dust that has fallen on them. And at least once a month, after you've have shaken and fluffed them, hang your pillows out.
---

How To Clean Pillows Step #2 – Placing Pillows In The Washer
First, you'll want to read the care label that is attached to your pillows. If your pillows contain down as well as fiberfill, you can put them in your washing machine, two at a time, into a top-loading washing machine that doesn't have an agitator.
If your machine does have an agitator, the pillows should be placed vertically to prevent damage. Make sure you always read the content label. Some pillows require cold water while others suggest washing the pillow in warm soapy water.
---

How To Clean Pillows Step #3 – The Wash Cycle Setting
When it comes to cleaning your pillows, a regular wash cycle setting is not usually recommended.
It's true that your pillows only need to be washed twice a year but make sure that you select the gentle cycle each time. A gentle wash will help guard against pillows losing their shape.
Bonus Tip: For throw pillows, you can wash them in a dishwasher. Remove any covers and place them on the top rack. Your pillows will go through both the wash and rinse cycle ensuring a clean pillow.
---

How To Clean Pillows Step #4 – Hand-Wash
Certain pillows, such as those that are filled with feather or down, are not suitable for machine wash. This means that you will need to hand wash your pillows to protect their contents. To hand wash your pillows, first gather your supplies: a soft cloth, some mild soap, and a basin.
Fill the basin with some warm water then add the soap.
Submerge your pillow into the bowl completely then knead it gently in the warm, soapy water.
Drain the water then press the pillow to remove any excess water. You will want to remove as much excess water before you start drying it.
Bonus Tip:
To spot-clean stains, clean the area with a cleaning solution of baking soda and white vinegar or all-purpose cleaner. If you choose the former, make a baking soda paste by mixing the baking soda with white vinegar. Apply the paste on a paper towel or cloth first and wipe the stain thoroughly. Or, spray the stain with the all-purpose cleaner. Then, using a clean damp cloth wipe down the entire section.

How To Clean Pillows Step #5 – Dry Pillows Completely
After washing your pillows, it is important that you dry them completely to prevent mildew from forming. If you don't have the time to air dry your pillows, the next option would be to use your dryer.
To get a completely dry pillow, you should set it to moderate or low heat. The newer dryers have a cool air setting that can also be used. Do not use the auto-dry setting as the sensor is only meant to detect surface moisture.
Make sure to add some dry towels and two fresh tennis balls so that the filling won't clump when your pillows are bounced inside the drum.
---
Time To Replace Pillow
When is the right time to toss your pillows? In general, a pillows lifespan is determined by the quality and the amount of care you give them. Below is an easy test that will help you determine whether your pillow should be replaced.
Does your pillow stay folded when you fold it in half?
Do the contents of the pillow feels bumpy or lumpy?
Do you need to fluff up or punch your pillow to create support? If you've answered yes to all these questions, then it may be time shop
for new pillows. Whether you're looking to purchase memory foam or plush you can get your next set of durable and supportive high-quality pillows from Tomorrow Sleep.
You may also enjoy How To Make A Pillow Cover – Easy, Step By Step Guide For 3 Styles
How To Clean Pillows Resources;
[1]   Raycop; Healthy Living.
Summary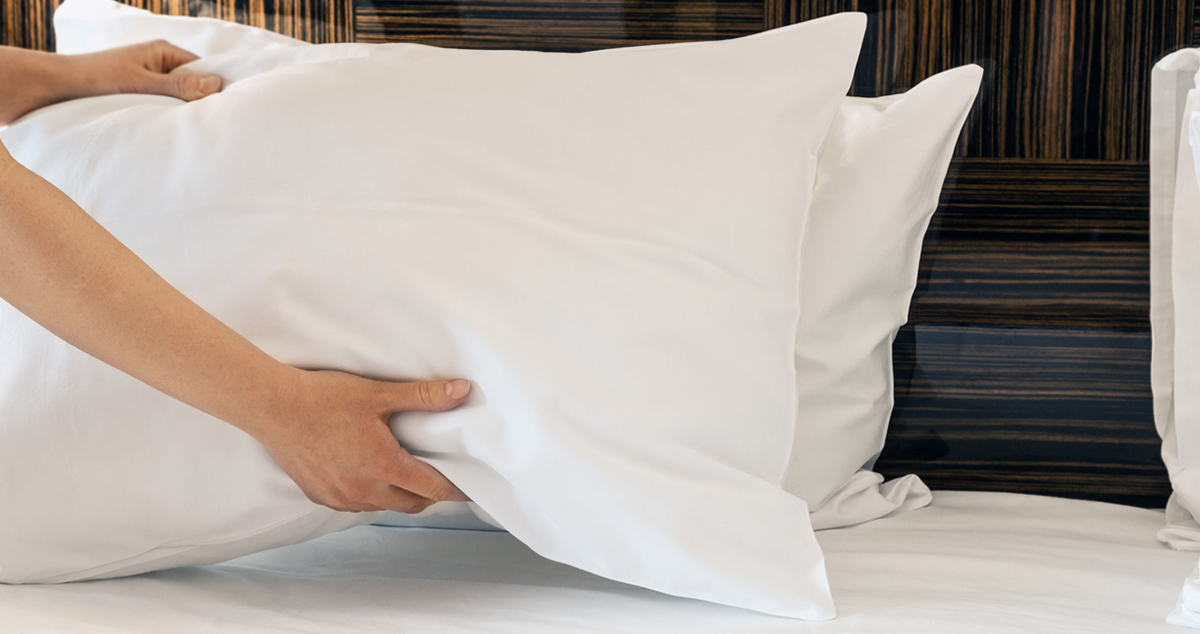 Article Name
How To Clean Pillows In 5 Easy Steps | Tomorrow Magazine
Description
[QUESTION] How to clean pillows? [ANSWER] Step #1 – Air Out Your Pillows. Step #2 – Placing Pillows In The Washer. Step #3 – The Wash Cycle Setting. Step #4 – Hand-Wash. Step #5 – Dry Pillows Completely.
Author
Sleep Team
Publisher Name
Tomorrow Sleep
Publisher Logo