How To Keep Cats Off Furniture – Cats are lovable pets that pet owners can't imagine living without. However, they can wreak havoc on the surfaces of your furniture, countertops, and window sills. Cat owners face even more challenges as these flexible creatures can climb and jump to high places. Have you ever woken up to find your cat in the kitchen on top of your refrigerator?
Are you wondering how to keep cats off furniture?  Is it even possible to train your cat? Let's find out.
First Things First About How To Keep Cats Off Furniture
Pet owners should try to determine why their cats are destroying their furniture. If you have a cat, ask yourself these 3 questions:
What do they scratch?
When do they scratch it?
How do they scratch?
Identifying these points will help you to train your cat to keep off certain surfaces.

Tips On How To Keep Cats Off Furniture
Cat scratching is a common problem for cat owners. A cat's sharp claws can damage a number of textiles such as cloth and leather. To protect your furniture from cat scratches, there are a few things you can do.
Place plastic car mats on furniture
Pet owners can put down plastic floor mats on furniture when leaving the house to prevents their dogs and cats from scratching. The results can be surprisingly successful since the round knobs on the bottom of floor mats can feel uncomfortable to the paws of your pet. This can deter many pets from scratching furniture.
Line your furniture with aluminum foil
Cat owners should take advantage of aluminum foil as a means of protecting your furniture from your cat's claws.  Generally, cats try to avoid slippery surfaces. Aluminum foil is a good cat deterrent when applied on smooth surfaces such as small furniture pieces or tables that are not in use [1].
Make apple cider vinegar spray
How to keep a cat off furniture? Try apple cider vinegar. The smell of cider vinegar mixed in water may prevent cats from jumping on your couch, bed, or even your window sill. Add some apple cider vinegar in a spray bottle and spritz the areas you want your cat to avoid. Another plus to using the cider vinegar and water combination is that it can also act as a deodorizer to combat pet odor [2].
Try citrus spray
Are you wondering how to keep cats off furniture? Cats hate the smell of citrus, making citrus spray an excellent natural cat repellent that's great for use on furniture and other surfaces. Consider testing lemon or orange citrus sprays on the fabric of your furniture, bed linens or other surface areas to ensure that they won't get damaged while using this cat repelling technique [3].
Use aluminum pans
Aluminum pans can be of particular help in the kitchen area. However, this technique is only recommended if you have hardwood floors, otherwise, the pans may damage your flooring. Place an aluminum pan on the edge of a counter so that when your cat jumps on it, the pan will fall down from the weight. The loud noises will surprise your cat and deter them from jumping on countertops in the future [4].
Try manual training
Did you know that you can train your cat to stay away from your furniture? If you find that your cat likes to spend time sleeping, stretching and scratching at your furniture or bed linens, you can correct your pet in real time as the undesired behavior occurs. Use a squirt bottle filled with water to chase them away or a clicker for cats and dogs to correct them so they will learn to avoid your furniture. This will take time but it will be well worth it to see that your cat knows where it should and shouldn't play.

Humane Society Suggestions On How To Keep Cats Off Furniture
Another suggestion for cat repellent for furniture is to change the texture on your cat's favorite surfaces temporarily. The Humane Society suggests that cat owners place no-residue, double-sided tape to deter your cat. It leaves your cat with sticky paws but does not harm them. They also suggest leaving sandpaper, sheet plastic, or aluminum foil on your furniture to deter your cats from using their nails or leaving their smell or scent on your favorite pieces [5].
A word about declawed cats and pet owners that are considering declawing. Some pet owners consider this method after all else has failed. It's important to note that according to the Humane Society, declawing is an unnecessary surgery that provides no medical benefit to the cat and traditionally involves the amputation of the last bone of each toe. Educated pet owners can easily train their cats to use their claws in a way that fosters a happy household without utilizing this invasive procedure.

Other Helpful Hints To Keep Cats Off Furniture
Here's some other ways you can prevent your cat from making your furniture their favorite cat scratcher or landing pad.
Cats love to play. Supply your cat with plenty of play toys, boxes and tubes with which to play. Above all, take the time to play with your cat every day.
Place catnip down in any area where you want to encourage your cat to frequent. This is where you should put their toys as well.
Buy a scratching post. Cats love to scratch from time to time. Encourage your cat to use a cat scratching post instead of your carpet [6].
Our pets have a special place in our hearts and our homes. But, the kitchen tabletop may not be one of them. Learning how to keep cats off furniture is well worth the effort.
How To Keep Cats Off Furniture Resources:
[1]   Wiki How; How to Keep Cats Off Furniture, Deanne Pawlisch.
[2]   Life Hacker; Keep Cats Off the Furniture With a Spray of Vinegar, Eric Ravenscraft, September 26, 2013.
[3]   Hunker; How to Keep Cats Off Furniture, Lorna Hordos.
[4]   The Humane Society Of The United States; Cats: Destructive scratching.
[5]   A To Z Pet Care; 7 Simple Tricks On How To Keep Cats Off Furniture, Saniya Ali, October 01, 2016.
[6]   CatAppy; How to Keep Cats Away from Furniture
Summary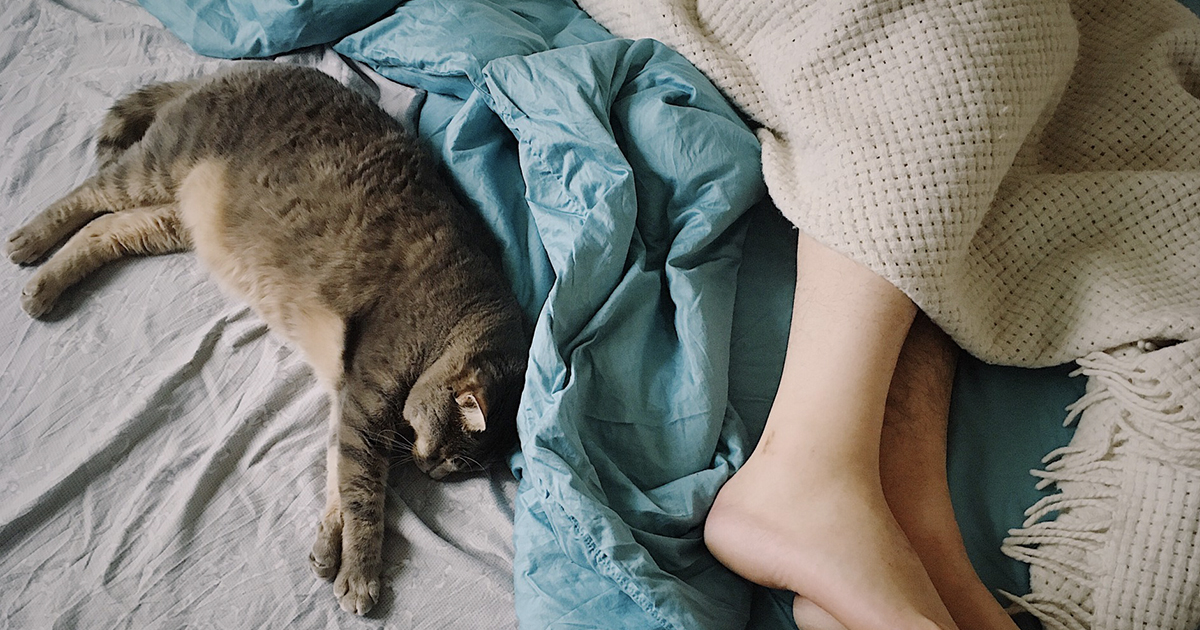 Article Name
How To Keep Cats Off Furniture – Proven Tips From The Humane Society
Description
[QUESTION] How to keep cats off furniture? [ANSWER] The Humane Society suggests that cat owners place no-residue, double-sided tape to deter your cat. It leaves your cat with sticky paws but does not harm them.
Author
Sleep Team
Publisher Name
Tomorrow Sleep
Publisher Logo